Makinacast 2 – M-Project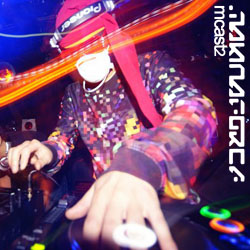 M-Project, a makina artist based in Japan and is the only makina artist whose ventured outside of Japan to spread his makina sound. Already well known in Spain, and recently done a collaboration with PJ Makina who was our previous makinacast guest. M-Project has contributed to all Makinaforce releases so far, and he wanted to do a Makinaforce tribute makinacast. We present to you M-Project's Makinaforce tribute makinacast!
If you are new to Makinaforce and/or makina, here is a great intro to our/its sound as well as M-Project's makina mixing style!
Makinacast 2 - M-Project

Download
01. Danny Garcia – Forum
02. 3R2 – Fallen Skies
03. DJ Anna – Into My Dreams
04. DJ Gary MC – Movimiento (PJ Makina Version)
05. DJ Caësar 9114 – Melancoli-k
06. M-Project – Route 143
07. DJ Gary MC VS DJ Serna & DJ Ruboy – El Taxo
08. PJ Makina – Highway 61
09. Ruboy – The Reconnection
10. Jordi K-Staña – Back To Life
11. PJ Makina & DJ Gary MC – Get On Up
12. M-Project – Synthetic Sky
13. PJ Makina & TripleXL – Alpha Centauri
14. TripleXL – Blood Muzik
15. Javi Tracker, K-rlos DJ & Hase – Bring It Back
16. DJ T-T Destroy – Now Or Never Makina Rmx (Feat. Marian Dacal)
17. Metal One – Melody Of Passion 2 (DJ DEPATH&M-Project Remix)
18. Xavi BCN – The Creation
19. Xavi BCN & Hase – Molecular
20. DJ DEPATH&M-Project – Return To Zero (Xavi BCN & Hase's Another Side Remix)