Interview: Shox – B-Form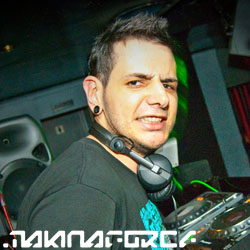 David Gonzalez, better known as Shox, is a freeform producer based in Barcelona, Spain. He is the owner of B-Form Beats and has done releases on various labels, the most prominent: Sinthetic Records as well as Al-Khemie Records, Relentless Digital and ourselves Makinaforce Recordings. Shox also manages his own event in Barcelona, B-Form Stage which happens every month in Barcelona (currently on hiatus).

English | Español | 日本語
Makinacast 4 – Shox

Hello Shox, how are you? Can you tell us how you came across freeform hardcore?
Hi, I'm fine, thanks! I had my first contact with freeform and UK Hardcore music when I was 16 years old. By that time, I started going to one of the most famous clubs around here, Xque, where the DJs (Pastis & Buenri) played mostly makina mixed with other harder styles, such as hard trance, UK Hardcore, hardcore, hardstyle, and some freeform too.
How did you first decide to produce freeform hardcore? You know that in Spain it is mostly makina that we hear about.
Four years ago the spanish hard music scene wasn't at its best. I started djing a few years before and I always had an interest in making my own music. It wasn't until then when I found that I needed to start producing my own tunes. I didn't think about making freeform or makina. I just did what I liked and it ended up in the style you can hear from me now, which I think is more close to freeform or UK Hardcore than to the oldschool or classic makina.
How do you feel about makina today compared to before?
I feel really sad because there was a big scene here in Catalonia (not in the rest of Spain) but through the years it has almost disappeared. There are many reasons that lead to that, but in terms of music I think that the main problem was the lack of innovation and evolution of most of the tunes made here between 2006 and 2010.
How did you begin to learn to produce? What equipment/software did you start out with? And has that changed much since then?
I was introduced to producing by my friend David Traya, he taught me the basics. I started with an Intel Core Duo PC and Cubase 3. As I said before, it was only 4 years ago, so it hasn't really changed a lot. Now I use different DAWS, instruments and plugins, but the essentials are the same as back then.
What are your main influences when it comes to production?
I'm a big lover of most kinds of music but when it comes to making my own tunes I think I'm very influenced by many hard trance artists: Technikal, Steve Hill, DarkByDesign, Nomad and also by Uk Hardcore and freeform ones, such as Impact, Gammer, Kevin Energy, Alek Szahala, Styles. There are a lot of them, but the one who has made me grow the most has been my friend Jd-Kid. I'd like to thank him for everything he has done, he's been a great inspiration. I think he is the greatest and most talented artist at the moment in terms of hardcore/makina music, and he has been the most influential person in my music, not only with his tunes but also with all the knowledge he shared with me.
What was your first release and how did that come about?
My first release was "I'm So High" on Sinthetic Records in 2009. I can't say I'm proud of those tracks right now, but I'm glad I made them because that has driven me to do what I'm doing nowadays. I have been friends with AleS and K-rlos for many years, so when I started making music I let them know everything I did. They liked what they heard and they helped me out with that first release, so I have to thank them too.
Tell us about B-Form.
B-form is short for Barcelona Freeform Stage. It started as a brand designed to give name to the parties that I organized with the collaboration of other artists and promoters, but then, people on the web started calling "B-Form" the music that Jd-Kid and me were doing, as it was slightly different from classic freeform.
B-Form is so closely tied to makina we often see people being confused about how to categorize B-Form. What do you think is happening here?
I think there's a part of the public (at least here in Spain) that thinks that makina is only the classic style with all that 90s' sounds and happy melodies. I didn't think this way, but there are a lot of people who don't see makina in the stuff that some producers are doing currently. As I didn't care about the name, I started categorizing what I did as hardcore, Uk Hardcore or freeform. I don't like to categorize music that much, but there is always people labeling genres and arguing about what style is every single tune in all kind of music, from house to rock, so it's unavoidable.
B-Form Beats is your label, how did that start?
It happened a year ago. In the same way of B-Form Stage, we saw that our music (mine and Jd-Kid's) was a bit different than the rest, so we decided to create a label, but Jd-Kid was really busy with other stuff so I decided to start it myself. I used my brand B-Form as it was a label dedicated to all the music I was doing and playing at the parties.
Speaking about JD-Kid, how did you two meet?
We met about a year before I started making music, he was working on "Trip To Heaven", his first release with David Traya. Who introduced us to each other. Since then, he has become an important friend of mine and I can totally assure that without him things would have been completely different in the past few years.
Are there any artists you would like to collab with one day?
Of course, I love to collaborate with other artists, it's a great way to learn from each other and you end up doing stuff you wouldn't get by yourself. I won't tell you names because there are a lot of people I'd love to work with someday.
When you are not making music what do you do?
Right now I'm finishing my college degree. It's what takes up most of my time… Thank god I'm finishing in a few months, ask me then! haha
Haha, sounds good. What can we expect from you in the future?
More music (not only in the hard scene), more gigs (I hope), and more B-Form parties. Right now we are taking a break, but B-Form is not over, we'll be back stronger than before.
Thank you for the interview, do you have any last words?
Well, I would like to thank you for the great job that you are doing with these music genres. And of course, thanks to all the people that has supported me in any way, because they are the reason I keep trying to do better.