Makinaforce Sessions 2013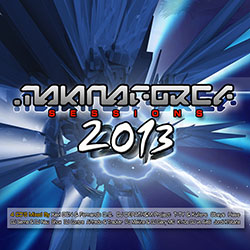 Artist: Xavi BCN & Fernando D.C., DJ DEPATH&M-Project, T-TY & Kullere, Obsys, Hase, DJ Serna & DJ Nau, Shox, DJ Contra, Al-fredo & Tracker, PJ Makina & DJ Gary MC, K-rlos DJ vs Ales, Jordi K-Staña
Title: Makinaforce Sessions 2013
Label: Makinaforce Recordings
br>
Cat#: MKFE9
Format: 4xCD
Released: August 12, 2013

Featuring a total of 172 tracks and over 5 hours of non-stop makina music, Makinaforce is back and doing it bigger than before. This time we feature all the biggest names in the makina scene.
Featuring the new Xavi BCN and Yukacco collaboration, for the first time an original Japanese vocal and Spanish makina artist come together. Shox's first ever original vocal to be featured in his session. A new smashing summer feeling hit by JD-Kid & Hase. The best running US hardcore label, Justice Hardcore's artist Ganar and T-TY & Kullere's new EP will also make an appearance. As well as well known Japanese makina artist, M-Project's new album, "Blood, Sweat & Makina".
This is without a doubt the biggest makina compilation mix in makina history!
Tracklist:
Disc 1
By Xavi BCN & Fernando D.C.
01. Xema Ramirez – Dreamers Of A Dream
02. Hardcoverz – Tres Chic Remix
03. Xavi BCN – The Trouble
04. Maximum Power Bases Vol. 2 – Music For The People
05. Fernando D.C. & DJ Kover – Close Remix
06. Maximum Power Bases Vol. 2 – Bingamox
07. DJ Sodeck – You Got It
08. DJ Alba – Shake Da Base
09. Xavi BCN Feat. Yukacco – Distance (Original Mix)
10. Das Projekt – Willkommen Base
11. Kracy & Compressor – Break The Spell Bootleg
By DJ DEPATH&M-Project
12. DJ DEPATH & Hase – Blast Sonic
13. M-Project&3R2 – Eternal Clock
14. DJ DEPATH & Ruboy – Louder
15. M-Project&PJ Makina – Cosmic Forge
16. DJ Kapital – Music Words
17. JD-Kid & Hase – Come Home (M-Project Remix)
18. DJ Neutron & DJ Fraki – The Essence
19. LIT & 3R2 – Time & Space
20. TripleXL – Jump The Fuck Up!
21. DJ DEPATH & K-rlos DJ vs Dani Delirio – Bigwig
22. M-Project&Xavi BCN – Magnetic Dreams
23. M-Project&3R2 – The Turbulence Of Awakening
24. Xavi BCN&M-Project – Japan-Spain Music Connection
25. DJ DEPATH & Xavi BCN – Concept Of Love (Daniel Seven Remix)
By T-TY & Kullere
26. T-TY & Kullere – Living
27. T-TY & Kullere & Ganar – Because Of You
28. Maximum Power Bases – Hell Drums
29. T-TY & Kullere – Stache Remix
30. Bonus Tracks 2012 – New Paranoid
31. T-TY & Kullere Feat. Lisa Abbott – Sunrise Remix
32. Das Projekt – Maschinengewehr
33. T-TY & Kullere & Ganar – Rise Above
34. Maximum Power Bases – Progressive Essence
35. T-TY & Kullere & Ganar – Pathway
36. Maximum Power Bases – Catbass
37. T-TY & Kullere – Natural Evolution
38. Maximum Power Bases – Mix & Destruction
Disc 2
By Obsys
01. Obsys – Beaupuyclubbers
02. Acid vs Obsys – Lick My Bass
03. Obsys – Damon
04. Biu & Kyg – N-Zarzed
05. Obsys – Stay Remix
06. Acid – Bass Monstah
07. Obsys – Simple
08. No Name – Base Is Motherfucker
09. Obsys – Struggle Remix
10. No Name – Farigola
11. Obsys – Opera Remix
12. Julio, Torria & Gacia – Polizei
13. Obsys – 500 Million MF
14. No Name – Stop The Base
By Hase
15. Hase – Cherished Memories (Secret Base)
16. Maximum Power Bases – Hardstyle Come Back
17. Supru – Crazy Bubbles
18. Hase – Connected Pt2
19. DJ Pitu & Odyn – Classica (Puta Madre Rmx)
20. anubasu-anubasu – Jack o' Frost (hurce Rmx)
21. CJ Alarm – Traffic Base
22. DJ Pitu & Odyn – Final Fantasy
23. CJ Alarm – Low Base
24. Hase – If Our Love
25. DJ Cesc – Stressed Beats
26. JD-Kid & Hase – Only You
27. DJ Kito – Platin Bass
28. Moite – Road Bass (Forkpower Tribute)
29. JD-Kid & Hase – Finale
By DJ Serna & DJ Nau
30. DJ Assault – El Diablo
31. DJ Serna vs PJ Makina – Base Sensation
32. DJ Depath & PJ Makina vs DJ Gary MC – Arc Slide
33. DJ Serna & Hase – Storm
34. DJ Nau & DJ Serna – Voight-Kampff
35. DJ Cook – Sensory
36. Ruboy – The Reconnection (First Version)
37. TripleXL – Hanging On
38. DJ Gary MC – Shooting Star (Remix)
39. DJ Puxo – Damage Base 2013
40. DJ Gary MC & Hase – Can't Hold
41. TripleXL – Struggle For A Fatboy
42. DJ Nau – UK Experience 2
43. DJ Nau – Boom Chaca Base
44. DJ Nau & DJ Serna – Twenty 9
45. DJ Metix & Abel Effect – Wicked Base
46. DJ Nau & DJ Metix Pres. KHA2 – Leaves
47. DJ Nau & DJ Serna – Get Up Base
48. Abel Effect – My Time
49. DJ Nau & DJ Metix Pres. KHA2 – Shining Star (UKHC Rmx)
50. DJ Metix & Abel Effect – Sensations
51. DJ Nau – Pitched Fucked Base
Disc 3
By Shox
01. Shox & DJ Nau – Burn It Down
02. T-TY & Kullere – The Shadow (Shox Remix)
03. Shox Feat. AH-Project – Deeper Love
04. Shox – Bukkake
05. Shox & Uri Track – Merciless
06. Shox – Freakin' Out
07. Shox vs Dani Delirio + Eska & Balu – Time
08. Shox & Xandro – Beat Base
09. Shox – Chronos
10. DJ Kito – Platin Bass
11. Shox Feat. Delice – Set You Free (Original Mix)
By DJ Contra
12. DJ Contra & Victor Ronda – The Mess You
13. DJ Contra – Depators
14. T-T Destroy – Heart Attack Rmx
15. DJ Gino & Victor Ronda – Hurt
16. Sindrome MX – Rizostoma
17. DJ Contra & DJ Vic – Metal Ham Bass
18. Victor Ronda & T-T Destroy – The One That God Away Rmx
19. DJ Frankciscogarcia – Extrogens
20. DJ Contra – Sensationals
21. DJ Aaron – Back To School
22. DJ Frankciscogarcia – Surrender Rmx
23. T-T Destroy & Victor Ronda – Angels Of Love (Hardcore Remix)
By Al-fredo & Tracker
24. Jordi K-Staña – Trouble
25. DJ Neutron – Here We Go
26. Ferran Kaos – Third Trip (Javi Tracker Remix)
27. Javi Tracker – Non Stop
28. DJ Compressor Pres. The 3 Styles E.P – Children Rmx
29. PJ Makina vs Jordi K-Staña – Enzime
30. Javi Tracker – Is Burning
31. Javi Tracker – Pump Up The Jam
32. Shox & Chafer – For Too Long
33. DJ Fleky vs Javiolo & Jordi K-Staña – Flebass
34. Javi Tracker – Marine
35. DJ Siño – Momo Bass
36. DJ Gary MC & PJ Makina – Let's Get It On
37. DJ Nau Feat. Mauri & Kan – Raya Base
38. Javi Tracker vs Juan Medina – Excelsior
39. Javi Tracker – Aggressive
Disc 4
By PJ Makina & DJ Gary MC
01. DJ Gary MC & PJ Makina Feat. Jemma Stevenson – You Can Have It
02. DJ Gary MC & PJ Makina – Oldschool Base
03. PJ Makina – Affinity (Original Mix)
04. DJ Gary MC & PJ Makina – The Arribada
05. DJ McGraf – Hyperion '13
06. DJ Gary MC & Jordi-K Staña – Input
07. PJ Makina & SPeeDX – Legacy
08. GMC – I Need Your Love (Remix)
09. PJ Makina & DJ Gary MC – Get On Up
10. CJ Alarm Feat. PJ Makina – Arteria
11. PJ Makina – You Can't Live Our Way
12. PJ Makina – I Miss The Misery (Remix)
By K-rlos DJ vs Ales
13. CJ Alarm Feat. K-rlos DJ – Magnetic
14. Acid – Dirty Glitch
15. Ales – Raise Your Hands
16. Sinthetic Bases EP Vol. 3 – Good Guys
17. DJ Neutron – Dark Symphony (Daniel Seven Remix)
18. K-rlos DJ – Tears Of The Past (3R2 Rmx)
19. Sinthetic Tracks Vol. 3 – Base Locos Ese
20. nadeco – Ancestral Call
21. Sinthetic Bases EP Vol. 3 – JGuar
22. DJ Kito – What's It Like
23. Ales – Takatout Base
24. DJ Memonik & Ivan Bass – El Cubo 2013 Remix
25. DJ Metix – Breaking With The Base
26. Ales – Crying Angel
27. Sinthetic Bases EP Vol. 3 – Acid Madness
By Jordi K-Staña
28. Jordi K-Staña – Trouble
29. DJ Morenoh – Width
30. CJ Alarm Feat. Jordi K-Staña – Happiness
31. DJ Konec – Clarity
32. Jordi K-Staña – Dual
33. Jordi K-Staña – Speedy
34. DJ Lobo vs Jordi K-Staña – Skiming
35. PJ Makina vs Jordi K-Staña – ET
36. DJ Konec – Enjoy The Time
37. PJ Makina vs Jordi K-Staña – Spectral
38. Jordi K-Staña vs V-Nax – Terminator
39. Full Of Bases 3 – Lokopada
40. DJ Peyes & DJ Puertas – Infinity
41. DJ Depath vs Jordi K-Staña – Thylight
42. DJ Zed – Black White
43. Jordi K-staña – Summer Dream
44. Full Of Bases 3 – Destroy The Pitch Vol. 3