Makinacast 5 – 3R2 vs Hase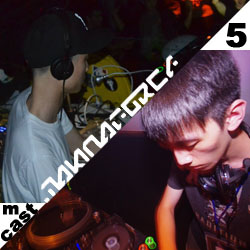 Here we are with the 5th makinacast displaying the sounds of Taiwan makina. 3R2 has been involved in the makina scene for nearly 4 years now and keeps pushing tracks in Japan, Spain, everywhere. Teaming up with Hase, these two have created a mix style that is popular in Spain bringing you the very first of Taiwan melodies with BCN bases. Featuring new releases from the recent Taiwakina II album as well as an exclusive mix of JD-Kid & Uri Trayer's Remix of Days To Come.
Makinaforce is proud to present, after a 1 year break, 3R2 vs Hase Makinacast 5.
01. 3R2 & Jordi K-staña – Ecstatic
02. LIT & 3R2 – Time & Space
03. 3R2 – Distant Star
04. 3R2 – Feel My Happiness (hurce Remix)
05. jioyi & 3R2 – Realization
06. 3R2 – Turn it Up
07. jioyi – Dead Reckoning
08. M-Project & 3R2 – The Turbulence of Awakening
09. nadeco & 3R2 – World Wide Happy
10. 3R2 & M-Project – Metal Spirit
11. 3R2 & Hase – Make You Move
12. Ice & 51202 – Running Mouse (3R2 Remix)
13. Seven Lions – Days To Come (jD-KiD&Uri Trayer RMX)