Interview: Ruboy – Ruboy Is God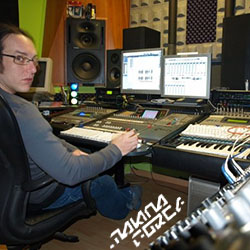 Ruboy, Ruben Moreno, the most renowned makina artist who has shaped makina into what it is today. Having done countless releases on many well known makina labels during the prime years, for the first time in over 10 years, we had the chance to ask Ruboy his thoughts about makina then and now.

English | Español | 日本語

Hello Ruboy, how are you?
I'm doing great, thanks! It's a great pleasure to be doing this interview with you.
So first off, how did you come up with the name "Ruboy"?
I'm not very sure myself actually. It was sort of random and I liked the sound of it so I went with it. I didn't put too much thought into it.
Where did your music career first begin? Was makina your first choice as an artist? How did you discover makina?
Well, I think where I grew up played an important role in determining this. Makina was big in Catalonia during this time and a club called "Sistema 3" was doing parties. I went and met with the resident DJs there and handed them a cassette demo. They seemed to have liked it and invited me to their studio to produce my first song, "My First Song" (once again I don't really put much thought into names). This then gave me the opportunity to become apart of makina music. This was how it all started between me and makina.
How did you learn audio production?
I got started thanks to my father. He was doing music as a hobby and had a pop band in the style of Ultravox. He would always encourage me to play with his synthesizers and from there I had the chance to experience the many synths that are now highly sought after. I must say that since I was young I had always had a interest in music so that helped the process as well. When I was 12 I started with Cubase and during that time there was only Atari and it was only just a midi sequencer. I made my first track at the age of 12 with a Korg M1 that I still keep memorably. Actually I still keep most of my hardware and use them occasionally.
What kind of hardware/software did you use back then when first starting to produce?
It all started with an Atari 1040 ST, a hard drive of 500 megabytes, a monochrome monitor and a few boxes of 3.5″ diskettes. The Korg M1 was very limited so step by step I made my collection bigger with newer hardware.
First a Kurzweil K2000 was my introduction into sampling. I then bought a Roland SH101 from my uncle and with that I started to learn about additive synthesis. After that I purchased a analog mixer that I still use. I then found my own sound when I purchaed a Roland JP8000.
And now has that changed much? Can you share what some of the software you use and hardware if you still use them.
A lot has changed and very fast too. If you don't catch on quickly there is a possibility of failure. I came from the analog world where the studio needed to look at the acoustics, monitors, mixers and other machines, all are not cheap. First you start a song and finish it. Crossing your fingers hoping no mistakes have gone into the master. Now you can have a few projects going at the same time and are able to move from one project to another without any problems. You can re-edit them as many times you want. It's like another world and it's a win-win situation.
Has the change in the industry and technology impact your production workflow?
Yes, definitely. You keep the same mentality as before but with the new changes the work flow is a little different. The old sounds are still used because without them you cannot get the proper makina sounds.
When you are producing makina, what are the most important aspects that really make makina become makina?
I'd like to first clarify a few things. Maybe the makina that you are talking about (where we write with a "K") is a Catalonian derivation because all the producers were from Catalonia. All the slower style of the Spanish maquina were written with "Q". Originally coming from the famous techno movement "Ruta of Bakalao" in Valencia. I was still a child at that time so I didn't have the chance to live it in person. Makina with the "K" took over the maquina from Valencia, making it more faster (from 140 to 175 bpm), more frenetic and more childish for the use of the melodies (one could say influence came from the Italian style of that time). Everything really changed when the DJs began mixing with 2 songs at the same time, matching the breakdowns on both tracks. You have a track on one turntable and on the other you were to look for another that would sound good mixed together. I was very curious to understand this new mixing style as one can hear in the club Chasis with Ricardo F. I still don't know how it all started. I want to say that when 2 tracks were mixed at the same tone it sounded good but nobody knew the theory behind how all this happened. For me it was very frustrating listening to songs mixed like that. Meeting with the professional DJs I told them they must find tracks that mixed well in tone but they never listened to me. The good mixes were spontaneous and were mere coincidences. Now that I noticed there are applications like "Mixed In Key" I wish I had patented the idea. hahahha
Where do you prefer to start when making a makina track? The melody? Kick? Intro?
It depends. The inspiration doesn't always come the same way for each track. To achieve this I had many resources and elements required to make makina. A few contras (a typical makina bassline sound) sampled from Thunderdome, vocals from Public Enemy were sufficient enough to be a lethal combination. Sometimes you think of a melody from scratch and other times you get inspiration from classics of electronic music like Vangelis or J.M. Jarre. It was easy for me due to my experience in sol-fa and piano. More than often producers were not musicians. Some were more successful at this than others.
The current makina is a very different sound compared to makina years ago. You, being one of the most prolific artist that shaped makina, what are your thoughts about this evolution?
I think this is natural. Makina comes from other styles and was forming in its own way step by step. During that time new people came and went, new producers, as well as producers leaving to try other styles. It was normal.
Did you ever imagine makina would become popular outside of Spain?
To be honest, no. Not to say that makina is a style in decline but the fast bpms of this style I had always believed it was more for teenagers and not for older people. Looking at the more mainstream artists like Guetta or Swedish House Mafia, it reminds me of the melodies and perspectives of makina, the only difference is their BPM, which in this case, Guetta, Swdish House Mafia, are at 128 BPM.
You know in Japan, the makina DJs there see you as a God. They even began calling this phenomenon "Ruboy Is God". I'm sure many (if not all) around the world also agree.
This is my first time hearing this. I wish I had known then I would move to Japan. Can I still go?
What do you think about the makina movement in Japan?
I love it. There are only a few places in the world that are still playing makina and I am very pleased to have influenced them in one way or another. The first country was UK in the area of Newcastle and I have good memories of it because I had many good friends there. And later Scotland and France.
Besides makina do you also produce other styles of music?
Like I said earlier, makina came about in my life unexpectedly. I started Ruboy and it seems that I did well. That's why I keep doing makina tracks occasionally. Keeping the same essence I had since day one! Because I love it when you know people are waiting for your new work. It's not a goal but more of a "feedback". Now I work as SURRENDER DJS with my inseparable friend Rad Wolf. My artist name is Ben Monroe and we do everything!
What do you do outside of music? Other hobbies?
I work in music full time and am always searching for new things and new trends in the music world to see if I can apply it to my sound. Outside of music I spend time with my family, go out for walks in scenic fields and my pets.
Is there anywhere you'd love to travel to someday?
If I had the money I would love to, it would be a pleasure for me and my partner. Anywhere in the world would be interesting to visit especially places that have nice beaches and a chance to see animals in their natural habitat such as Africa. Japan is also very interesting too. If one day I can you can be my guide?
Thank you Ruboy for the interview, any last words?
Thank you for having me on your interview!!!