Interview: Pastis & Xavi BCN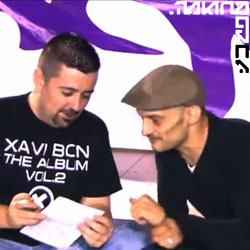 Xavi: Hello
Pastis: Hello
—
Xavi: How are you doing?
Pastis: How are you doing?
Xavi: (ola k ase)
—
Xavi: So, how are you doing?
Pastis: Very well.
Xavi: Good

English | Español | 日本語

Xavi: We will make ourselves a few questions about what we think are really important. Just exclusively what we think is the path we want to follow.
Pastis: And continue the path and keep walking. We have to say out loud that you can't live from the past. The "remembers" are very good, and those golden ages.
From time to time you just have to make them to reminisce them.
To gather and listen to the songs and mixes from when we were young. A good thing about a DJ is the ability to evolve, because if you don't evolve, you die.
And you can't just keep doing the same, because you don't create new things. And when a DJ doesn't create new things, BAD!
And how my mate Xavi here says, we will review and choose the path. The path we will follow.
Don't you agree Xavi? Agreed! Shall we start? Let's start!
WHAT DO YOU THINK OF THE CURRENT MAKINA STYLE?
Pastis: I think the music of today is in a good moment. The thing is, as I said previously, the majority of people, or the vast majority who go to parties like the "remembers".
We for example, or this person next to me, who is a number one producer, we create with the maximum feeling and heart into it.
What I fail to understand is why it can't be liked by the community.
The speed has been reduced, the sounds are less aggressive.
Because of the feeling addition, there are violins, pianos, I don't understand why it's not liked.
Maybe you could explain it a bit.
Xavi: I really believe that to listen to music nowadays you need the will to listen to it. (That's for sure)
When all the main stations nowadays keep airing the same product, 24 hours a day (You end up taking a like to it) that's the only thing you will listen to (Right).
You don't have time for anything else. What you remember about the "Makina" and the sounds that you liked so much, are the songs that aired back then.
We really believe the "Makina" of today is of very good production, has the "feeling" from before, with the quality of today, with all the styles that are popular. Mixing the best from today and back in the past.
Why people don't like it? To put it bluntly, because they don't listen to it.
WHAT'S THE REASON TO GIVE YOUR 100% IN EVERY SESSION?
Pastis: The reason of why oneself gives the 100% I believe, is first because of the "Makina" music, for the feelings it has, and second, because of the people, seeing the enjoyment, the laughs, the crying…
It's when it gets the best of you. Because being a DJ is like any other job. A job that requires a lot of dedication.
And the feedback from the people giving themselves, of respecting you, the way they dance… I think it's one of the most gratifying moments in this career, at least for me.
DO YOU THINK WE CAN HAVE A SECOND GOLDEN AGE?
Xavi: Well asking for a second golden age…, it might be a bit too much asking for a second golden age.
Before, "Makina" was in every home, everybody listened to "makina" (in clubs, radio stations, tv…)
We believe the fusion from the 80's, when we started, until today, the styles have been merged, fused in one. More commercial than when we started, to nowadays, really always "in crescendo".
Always going stronger. And until today we arrived to the strongest (To the maximum). Like Flaix and Máxima, all these stations that are number one nowadays.
We believe that a second golden age is possible. But maybe it won't have as much "feeling" as before. Because it will be a "replay" from the time we lived. But it can be magical to all the people who haven't experienced it.
Pastis: All the people that are 15, 16, 17 years old. People that never miss a weekend, even if it's hard to believe (and there are lots), lots and lots of people…
Xavi: I really believe that for those people that didn't experience that age, it will be a "replay" for us, but for them it can be the new cool thing for those that didn't live in that age. And for us too.
Pastis: Everything that is new has a head start, and everything that has a head start is cool. (I completely agree)
IS THE FOREIGN MARKET THE SALVATION?
Xavi: Well, let's see, the foreign market maybe it's the solution. Or maybe just a patch.
But the real solution is here, in our home. (In Catalonia)
We are the ones that created this style, we are the ones that have to be there for this music.
This is our home, this is our music.
Nobody really will fight for the family of one, like oneself. (Exactly)
For example we work a lot with Japan, releasing compilations, they buy a lot. In United States, Finland…
There are a lot of places where "makina" is bought. Why? Because it's good! (And is liked)
We will be making the party the 19th, we are bringing these three Japanese and American, Depath, nadeco, 12_1 and Hase from Los Angeles.
I think for them it might be a satisfaction to go where the "Makina" style was born.
This is freaking awesome, like hardcore producers going to Holland to DJ. This is why it must be awesome.
And everything is being made so people from there can come here, to our home, and they learn how we roll here (We have 20 years of experience already).
And we hope there are a lot more years still to come. (Two decades is earlier said than done)
And this is made so they learn that we are good people. And that here, the 19th, in XQUE club will have all the "Makina" community support.
Together with Pastis, Fernando D.C. and myself, T-Ty and Kulleré. We are all fighting continuously, with all we've got for our music (Makina style)
WHY KEEP FIGHTING TO KEEP "MAKINA" ALIVE?
Pastis: "Makina" is a way of life… So I haven't even thought about it… I know there have been rumors because I've made other things, but it was just to test other things.
They invited me and I tried. I can't leave "Makina" alone. It's my way of life, it's a feeling, and for all the new people that has to come, I think it's worth to keep going. To keep fighting, keep rolling, keep throwing parties… Because of the new generations.
There are new markets, and if regretfully here there are no longer vinyls in production, because the labels don't like the compilations, we will have to look for something outside, without forgetting the beginnings, and always keep working here.
Always trying to get the Catalan music listened in other markets. What do you think of all this, Xavi?
Xavi: Completely agree! Nowadays and how I feel, being the producer that releases the most quantity (Number one).
From all styles, including: hardtrance (Makina), UK Hardcore, Classic "Makina" style (Singing). They ask the responsibility I feel.
Do I feel it? A lot. But this feeling is easy to carry because what I fight for is "Makina".
Pastis: Current one, has very good sounds, has a lot of feelings, and it's not as aggressive as it was in the past. So… you just have to listen to it, guys. Nothing more, nothing less, listen to it, because it's really worth it (Of course it is)
CAN YOU KEEP LIVING FROM THE PAST?
Pastis: Well this is a very good question. Can you keep living from the past? I don't think so. I don't believe so. But what's beautiful, for example, is the 2nd of November will be my 21st anniversary in the DJ booth. Two decades, earlier said than done.
In those 12 hours it will be really nice to remember, for example in that particular and special party. I'll start from the 80's, technopop, all the music from the 90's and everything until the 2013.
To put a compilation of the best mixes in 12 hours, the best songs from each year is a lot of work…
But I think the result afterwards, it will be very beautiful to have worked those 12 hours and having remembered 21 years of my life, or my life as a DJ, I think it will be truly amazing.
Parties like that are not done every day, and I think the "remembers" should be like this. Very rare parties and supporting the "Makina" style.
Because you can't live from the past. From time to time you can throw a very special party.
Me, and Xavi, and Ricardo F, and a lot of other DJ's that are still fighting for this style.
So now you know, guys.
Xavi: It's very beautiful to remember the past (But past is past) but it shouldn't be revived every day. We can't always stay in the 90's.
We are already in 2013, and we hope that we still have a lot of years together, under the "Makina" style overseeing.
Thank you to all the people who fight for the "MAKINA" style!
Presented and directed by Pastis and Xavi BCN
Cutting and Edition by Xavi BCN
Camera Assistant Xavi Gines
Recorded at xque
Courtesy of BCN CONNECTION