Makinaforce Sessions 2012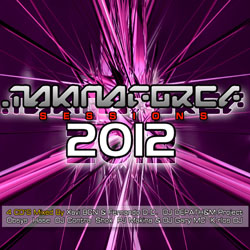 Artist: Xavi BCN & Fernando D.C., DJ DEPATH&M-Project, Obsys, Hase, DJ Contra, Shox, PJ Makina & DJ Gary MC, K-rlos DJ
Title: Makinaforce Sessions 2012
Label: Makinaforce Recordings
br>

Cat#: MKFE6
Format: 4xCD
Released: August 5, 2012

Makinaforce is starting Summer 2012 off with a huge 4 CD session CD. Featuring over 140 tracks with all the newest releases for 2012 from Spain, Scotland, France, Japan, and many more. This will be no doubt the biggest makina CD release to go down in history for everyone involved in makina. Labels such as Sinthetic Records, Mirakle Records, B-Form, NOx Records, Terraform Music and BCN Records to name a few have contributed their tracks to this release.
All sessions are mixed using 3 decks, otherwise known as "BCN Style".
We also have done a web video advert so check that out! Look forward to the release!
Tracklist:
Disc 1
By Xavi BCN & Fernando D.C.
01. T-TY & Kullere Feat. Lisa Abbott – Jump In
02. DJ Cesc – Stressed Beats
03. Xavi BCN & Fernando D.C. vs Crecoma & JG Bass – BCN Connection
04. W&B Bases EP Vol. 1 – Technoban
05. Xavi BCN vs Barcelona Project – Can't Believe
06. T-TY & Kullere – Revolution
07. Xavi BCN – Stay
08. W&B Bases EP Vol. 1 – Danzen
09. DJ Massot – Harmony Of Elements
10. Bonus Tracks 2012 – Beat Bonus V.2
11. Templars Of Music – History (Poli-G & Metri Fast Version)
12. Hard Coalition – Maximum Stereo
13. Xque Vol. 11 – Xque Is Alive
14. DJ T-TY – Pitch Base
15. Hardcoverz – Goldener Reiter
16. Xavi BCN – Dark Side Of The Underground
By DJ DEPATH&M-Project
17. DJ DEPATH & K-rlos DJ – Pit Viper
18. M-Project & Xavi BCN – The One
19. Ferran Kaos vs ALDJ – Dreams Of The Forest
20. DJ DEPATH&M-Project – Next Level
21. DJ Kracy – River Flows In You Rmx
22. Javi Tracker – Tribute To Alkhemie
23. K-rlos DJ – Tears Of The Past
24. Kroma – Start The Party
25. M-Project – Synthetic Sky
26. DJ Kapital – Galaxy
27. Karachi Vol. 1 – Enjoy Karachi (DJ DEPATH&M-Project Remix)
28. DJ Fleky vs Javiolo & Jordi K-Staña – La Pasion
29. Xavi BCN vs Ruben XXL – Dancecrusher
30. DJ DEPATH & Jordi K-Staña – Oscillation
31. DJ DEPATH & PJ Makina – Interstellar
32. DJ DEPATH&M-Project – Crimson Viper
33. DJ DEPATH & Xavi BCN – Concept Of Love
Disc 2
By Obsys
01. Obsys – Hazard Heaven
02. No Name – Base 1
03. Obsys – All The Lovers Remix
04. DJ Kenny – Wake Up
05. Obsys – Free Your Ass
06. Acid vs Obsys – Lick My Bass
07. Obsys – Lucky Star
08. Biu & Kyg – N-Zarzed
09. Obsys – Speed Limit
10. No Name – These Crazy Tracks
11. Obsys – Mu-Sick Remix
12. Fraki & Neutron vs Shox – Mindblower
13. Obsys – Cognitive Distortion
14. Mateor – Kickin
15. Obsys – Under My Skin
16. Mi-K vs Obsys – Sorrybase
17. Obsys – Changing Winds
18. Simbolium – Basic Domain
19. Acid vs Obsys – Trust In The Future
20. No Name – Mission Accomplished
By Hase
21. JD-Kid & Hase – Because Of You
22. Javi Tracker – I'm More Crazy
23. 3R2 & Hase – Make You Move
24. DJ Nau Feat. Mauri & Kan – Raya Base
25. Javi Tracker – Change Please!!!
26. DJ Smile – Dead At Final
27. DJ Gary MC & Hase – Can't Hold
28. Sinthetic Bases EP Vol. 2 – Next Life Project
29. DJ DEPATH & Jordi K-Staña – If I Could Be You
30. DJ T-TY vs Xavi BCN – Maximum Rise
31. Javi Tracker – Strange Remix
32. DJ Alba – Shake Da Base
33. DJ Nau vs DJ Serna & Gary MC – SGN Melody 2012
34. JD-Kid & DJ Mauri – The Return
35. DJ Contra & Hase – Illuminus
36. DJ Serna vs PJ Makina – Base Sensation
37. Hase – Rave Injection
38. JD-Kid & Matthew Vik – Acidine
39. Javi Tracker – Motherfucker
40. Luis DM & K-rlos – Hardness
41. DJ Serna meets Double Fantasy – Ellipse (12″ Mix)
42. JD-Kid & Hase – Just Go
43. JD-Kid & Hase – An Angel's Love
44. DJ Pastis – Human Bass
45. JD-Kid & Hase – Ethnikore
46. Javi Tracker – Non Stop
Disc 3
By DJ Contra
01. DJ Contra – Hypersentimels
02. DJ Gino & Victor Ronda – Hard Base
03. DJ Castaño – Some One Like You Makina Rmx
04. DJ Contra – Rocket Rmx
05. DJ Frankciscogarcia – Blood And Sand
06. DJ Contra – Hard Voel Style
07. DJ Aaron – Vibrations Makina Rmx
08. DJ Aaron – Four Stations
09. DJ Contra – Speed Trance
10. DJ Mochue & DJ Gino – Dinner Rmx
11. Victor Ronda & T-T Destroy – California King Bed Rmx
12. DJ Contra & DJ Berni – Cartoon Bass
13. DJ Castaño – Melody Of Dreams
14. DJ Contra & Victor Ronda – Crazy Base
15. DJ Aaron – I Could Be
16. DJ Contra & T-T Destroy – Lost In Paranoid
By Shox
17. Shox presents AH-Project – Love Keeps Us Kind
18. Javi Tracker – Groucho Marx
19. JD-Kid – Futurekore
20. DJ Kito – Platin Bass
21. Shox – Unleashed (Original Mix)
22. Ravin' Nightmare – E.F.D
23. Shox & Hase – Coming Home vs Use Sombody (Private Mashup)
24. Codo & Gonza – Let's Roll
25. JD-Kid & Matthew Vik – Touch The Stars
26. Shox + Big-D & Bolo – Bassturbator
27. Shox presents AH-Project – Sons Of Darkness
28. Shox vs DJ Kubiko – Insane
29. Shox vs Eirbee – Waterfall
30. No Name – Slap-F
31. JD-Kid – Reborn
32. Shox vs Uri Track – Facekicker
33. JD-Kid & Shox – Spotlight
34. Shox – Freakin' Out
Disc 4
By PJ Makina & DJ Gary MC
01. Joan Creus & Fran Bit – Take Me Away
02. DJ Veq – Short Dick Base
03. PJ Makina – Revolutionary
04. Jordi K-Staña vs PJ Makina – Block Out
05. Kwet & AdN – S-Over (Hardtechno VRS)
06. DJ Gary MC & DJ Serna – Peacock
07. Lowgi – Old Feelings
08. PJ Makina – Already Gone
09. DJ Gary MC – Dance With Us
10. DJ Fleky vs Javiolo & Jordi K-Staña – Flebass
11. Jordi K-Staña – Behind These Hazel Eyes
12. Ferran Kaos – Third Trip
13. GMC – Find Yourself
14. PJ Makina – ACAB (All Cops Are Bastards)
15. PJ Makina – Here's To Us
16. DJ Gary MC – The Distance
17. DJ Fleky vs Javiolo & Jordi K-Staña – Rolling In The Deep
18. DJ Veq – Makina Spirit
19. PJ Makina – Old Gold
By K-rlos DJ
20. K-rlos DJ vs Peryk – Army Of Duty
21. Sinthetic Bases EP Vol. 2 – Recovery Mode
22. Dani Delirio – Tsukiji
23. K-rlos DJ – High Tech
24. Heaven 7 – Stronger (K-rlos RMX '11)
25. Sinthetic Bases EP Vol. 2 – Worm Form
26. Javi Tracker, K-rlos DJ & Hase – Bring It Back
27. Sinthetic Bases EP Vol. 2 – Mass Gleeful
28. Dani Delirio – Neo Tokyo
29. Sinthetic Bases EP Vol. 2 – Speaker Bass
30. K-rlos DJ – Mercury
31. Dani Delirio – Motherfucker Austrian Doctor
32. P.C.P. – Origens (K-rlos DJ Special RMX)