The Classic Sessions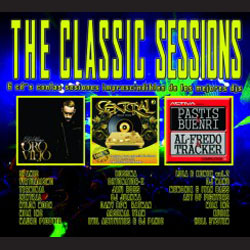 Artist: V.A.
Title: The Classic Sessions
Label: Bit Music
br>

Cat#: 30335
Format: 6xCD
Released: 2012



"Triple-Double" CD sessions recorded live from the plates of steel, turntables. 100% Central with Javi Boss and Juanma, one of the best sessions in history with Pastis and Buenri, and an unforgettable in the dance classics from DJ Nano with "Oro viejo".
Tracklist:
The Classic Sessions
Disc 1
01. Lola & Konec – Innocence
02. DJ Manu – Whistle Rumbler
03. Memonik & Ivan Bass – El Cubo
04. U.V.P.X. – Dimitrix Base
05. Art Of Fighters & Endymion – Let's Get It On
06. DJ Manu – Take To Me
07. Pastis & Xavi BCN – Express Yourself
08. DJ Hino – Fantasy In The Sky
09. DJ Meet vs DJ Beat – We Are
10. DJ Meet – Bass In Your Face
11. Art Of Fighters – Artwork (Tha Playah Remix)
12. Jonyk vs Dani Delirio – Synthetic Opera
13. Reverendo & DJ Pitu – In My Fucking Life
14. Raul Soto & Miguel Serna – Hit My Heart
15. DJ Francis Vol. 2 – Ho Peto!
16. Oscar Elemento – Sweet Music
17. Bases EP Vol. 2 – We Are Nobody
18. U.V.P.X. – Everlasting
19. DJ Hino – Sound Of Interference
20. Evil Activities – Nobody Said It Was Easy
Disc 2
01. Art Of Fighters – Let's Get It On
02. Milk Inc. – Sunrise
03. Lola & Konec – Spook
04. Kubik – Kibuk Basik
05. LML – Tauren
06. Hell System – The Executioner
07. Miguel Serna Pres. Virtual – Illusion
08. DJ Xami – Ultimate Destruction
09. DJ Luigi – Return To The Classics
10. Javi Tracker – I'm So Crazy
11. Ruboy's Return – Demonstration
12. Reverendo & DJ Pitu – In My Fucking Life
13. K-rlos DJ – Different Words
14. Xavi BCN pres Makoky & Vid vs Victor DLN – The Scream
15. DJ Mad Dog – Nasty
16. Al-Fredo & Ripper – Dark Bells
17. Oscar Elemento – Basik Element
18. InEffect & Gammer – We Come Alive
19. DJ Xami – Stimulus
20. Stunned Guys & Art Of Fighters – Eternal
Central 100%
Disc 1
01. Bossma – Print The Melody
02. Detonator-X – Parafernalia
03. Javi Boss – Collection
04. DJ Juanma – Micuit
05. DJ Juanma – King Of The Jungle
06. Dany BPM & Qatja S – Bass Dropin
07. Amnesys – Elevation
08. Ratman – Jump-Rat
09. Jordan James – Livin' On A Prayer
10. Bossma – Stop Mix
11. Christian Beltran – Mueve Esa Cosa Nena
12. DJ Juanma – Fallen Angel
13. DJ Greg C – Static Faction
14. Javi Boss – Mr. Black
15. Ratman – Abre Las Piernas
16. Xavireg Vol. 4 – When You're Gone
17. Tommyknocker – One Sick DJ
18. Dany BPM – El Globo 09
19. Evil Activities & DJ Panic – Quiet Dedication
20. Javi Boss – El Vacilon
Disc 2
01. Javi Boss – Violet Hardcore
02. Dany BPM – Suck Me
03. Ratman – Mora Jamaica
04. Detonator-X – Freakitona
05. Javi Boss – History X
06. Arsenal Team – Pega Wapo
07. Evil Activities & DJ Panic – Invincible
08. DJ Juanma – Arriba Y Abajo
09. Raul Soto & Miguel Serna – Rising
10. Bossma – Heroes RMX
11. DJ Pablo – Dale Loka
12. DJ Juanma – Good For You
13. DJ Juanma – Tekina
14. DJ Juanma – Mukuera
15. Miguel Serna & Raul Soto – Free
16. DJ Juanma – Gallo Loco
17. DJ Greg C – Speed Talking
18. Javi Boss – N.M.D.
19. Dr. Rude & Dany BPM – Don't Stop
20. Masters Of Ceremony – Dirt
Oro Viejo
Disc 1
01. Spanic – Sister Golden Hair (Extended Mix)
02. Virtualismo – Mismoplastico
03. Terminal – Poem Without Words (Original Mix)
04. Zentral – Que Idea ! (Original Mix)
05. Dee Dee – Forever (Original Mix)
06. DJ Nano – Fucking In The Sky (Original Mix)
07. B.B.E. – Seven Days & One Week (Club Mix)
08. Aqualords – Witches (Original Mix)
09. Energy 52 – Cafe Del Mar (Original Mix)
10. Astroline – Close My Eyes (Club Mix)
11. Darude – Sandstorm (Original Mix)
12. Scooter – Hyper Hyper (Original Mix)
Disc 2
01. Nylon Moon – Sky Plus (Original Mix)
02. V.F.R. – Tranceillusion Motion (Original Mix)
03. Milk Inc. – Wide Awake (Extended Mix)
04. Mauro Picotto – Iguana (Megavoices Mix)
05. 2 Fabiola – Play This Song (Original Mix)
06. Vincent De Moor – Shame (Original Mix)
07. Orion Too – You And Me (Original Mix)
08. Nano – Fuck This Pussy (Original Mix)
09. Ian Van Dahl – Castles In The Sky (Original Mix)
10. Yves Deruyter – The House Of House (Original Mix)
11. La Luna – Here I Am (Club Mix)
12. DJ Nano – El Mar (Original Mix)