MAKINALION VOL. 1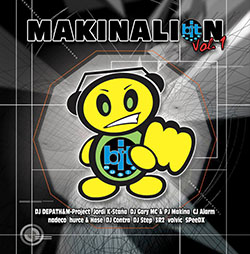 Artist: V.A.
Title: MAKINALION VOL. 1
Label: Bit Music
br>

Cat#: 38503
Format: CDx2
Released: Expected 2013



New compilation CD from Bit Music. In collaboration with DJ Depath, M-Project and Makinaforce Recordings.
Featuring a double CD package with un-mixed/separate tracks on disc 1 and a session by DJ Depath and Hase on disc 2.
Tracklist:
Disc 1
01. DJ Gary MC & PJ Makina – The Arribada
02. DJ DEPATH&M-Project – Melodic Storm
03. hurce & Hase – Lament
04. 3R2 – Sweet Dreams
05. nadeco – Nostalgic Dream 3
06. DJ DEPATH&Jordi K-Staña – B71ESO
07. SPeeDX – Rippin Shit
08. DJ Step – UFO's (Original Mix)
09. volvic – Elektron
10. CJ Alarm – Antidote
11. DJ Contra – Activate Melody
Disc 2
Mixed By DJ DEPATH&Hase
01. hurce & Hase – Lament
02. Odyn – Paluxa
03. Ruboy – The Reconnection
04. DJ Gary MC & PJ Makina – The Arribada
05. CJ Alarm – Alarmat
06. DJ DEPATH & Jordi K-Staña vs. DJ Vic – Performance
07. M-Project&SPeeDX – Mind Activation
08. JD-Kid & Hase – Come Home (Ruboy Remix)
09. CJ Alarm – Secret Dimension
10. Javi Tracker, K-rlos DJ & Hase – Bring It Back
11. DJ DEPATH & PJ Makina – Interstellar
12. M-Project & Xavi BCN – Magnetic Dreams
13. Javi Tracker – Marine
14. DJ DEPATH & Hase – Confusion
15. JADNexus – On & On (PJ Makina Remx)
16. DJ Contra – Activate Melody
17. Xavi BCN & M-Project – Japan-Spain Music Connection
18. Javi Tracker – Motherfucker
19. DJ DEPATH & Hase – Simphony Magic
20. DJ T-T Destroy – Now Or Never Makina Rmx